Amber Waves Swim Lessons in Wichita, KS (Coming in 2023)
Want to get your little one started swimming early? Are you looking to brush up on your own swimming skills or get some exercise? Amber Waves is the premier swim lessons & training destination in the Midwest! We offer swim lessons for all ages and all skill levels with programs ranging from stroke clinic, water aerobics, open swim, and more!
why choose amber waves for Swim Lessons?
Amber Waves is the best place to learn to swim in a safe and comfortable environment for swimmers of all ages and skillsets! We're committed to creating a fun, unique learning experience to deliver value and quality unlike any other. When you take a course with us, you become a member of our diving family – one that is committed to ensuring you have a safe and meaningful learning experience.
We specialize in individualized swim goals so every swimmer learns skills needed to advance while having fun learning along the way.
New state-of-the-art facility features a 25-yard, 18-foot heated pool that allows us to do specialized training and top-of-the-line equipment for cleanliness and safety.
Our passionate swim and scuba instructors make learning fun with measurable progress through our Passport to Adventure reporting.
Our experienced instructors

Amber Waves swim teachers are certified with the highest PADI credentials and use the latest swim curriculum and teaching techniques. With low students per teacher ratios, you or your swimmer will get plenty of attention and quality education while having a great time!
Proven Progress
Through Amber Waves swimming school, parents will always know how their child is doing in swimming lessons thanks to our Passport to Adventure. As kids advance through the skills in each level, their progress is tracked and reported. We are always sure to celebrate each achievement and keep our swimmers motivated!
Swim Lessons we offer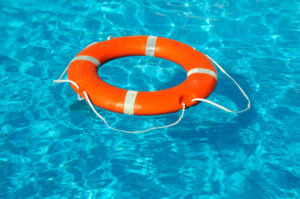 Trial Swim Lessons  – Not quite sure about swim lessons? Sign up for a free trial swim lesson – with no commitment! Amber Waves free swim lesson trial gives parents the opportunity to see firsthand how Amber Waves Swim and Scuba can help their child in the pool!
Children's Swim Lessons – Amber Waves kids swim lessons help children become more confident in the water. We offer kids swimming lessons for children of all ages, skill levels, and abilities. With small classes and a low teacher-to-student ratio (four students per teacher), your child will get more attention needed to build swimming skills and become a better swimmer.
Adult Swim Lessons – Whether you're 10 or 110, learning how to swim is a valuable skill to be used for life! Are you just starting out learning to swim or want to brush up on your swimming skills? Amber Waves offers swimming lessons for adults of all skill levels to swim toward and achieve your goals!
Swim lessons schedule
Classes are held on the same day (weekdays, evenings, or weekends) for 30 minutes in monthly sessions. See our calendar to find an upcoming class! 

Session Types
Monthly – Four weekly classes in a month
Weekly – Four consecutive classes in one week
Swim lessons pricing
Amber Waves offers simple monthly billing that guarantees a spot in the class of your preferred class time for future months, which also includes access to family swim at our training facility.  Our packages don't require a contract so if you need to take a break, no problem. Just let us know when you'd like to stop and start classes back up!
Knowing how to swim properly is an essential skill that will help keep you, your child or loved one safe in the water. Contact us with questions, give us a call at (316) 775-6688, or find a class on our calendar to get started learning a valuable skill to be used for life!