The Great Wheat Shark
The Amber Waves Diving Company, Inc., was the proud corporate sponsor of an expedition that recently confirmed the existence of the frightening Great Wheat Shark®, known by its proper scientific name Carcharodon Triticum Territo®.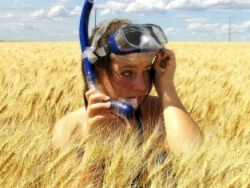 Habitat
The rare Great Wheat Shark® is believed to inhabit the vast Great Plains of the Central United States.  It is also believed to be most active during its mating season, which apparently coincides with that brief period of early summer when winter wheat crops mature.
Methodology
The expedition began by sending a team of intrepid divers to plant sensors which would help capture the strange rustling sounds that have been reported just prior to the unconfirmed sightings of Carcharodon Triticum Territo®.  These brave divers descended below the surface armed only with gluten repellent, which some believe may offer a small degree of protection from the Great Wheat Shark®.
While conducting these critical scientific surveys, the expedition discovered that the precious habitat of this mighty leviathan is, in fact, being ruthlessly destroyed by large, mechanical harvesters.  These large vessels are capable of stripping large areas of habitat in very short periods of time all in the name of feeding humanity.  Special safety precautions were taken by dive teams to avoid being victimized.
Results
After some difficult negotiation, the expedition leaders were able to reach a fragile truce with the operators of these large mechanical harvesting devices.  It was agreed that given the unique characteristics of Carcharodon Triticum Territo® it was imperative to protect this specimen from extinction even before its existence had been proven.  Today, as a result of this hard won compromise, the future of the Great Wheat Shark® has been assured.
Finally, the persistence of long minutes of patient observation paid off when expedition members captured this unique and absolutely authentic image that confirms once and for all the existence of the Great Wheat Shark®.  The reader will judge for him or herself the truth of this compelling evidence of the breath-taking majesty and beauty of Carcharodon Triticum Territo®.
At the moment when this image was captured, one of the leaders of the expedition was heard to gasp and exclaim, "I think we're going to need a bigger tractor!®"
Want to spread the message of the Great Wheat Shark®?
Those who would like to support further efforts to bring the message of the Great Wheat Shark® and the spirit of land- locked divers to a skeptical public, are urged to purchase and proudly wear Amber Waves Diving Company clothing.
We thank you for your support.
All information relating to the Great Wheat Shark® (Carcharodon Triticum Territo®) is entirely fictitious and otherwise made up by us for your enjoyment. We do not mean to frighten any small children and any reports of pets and small animals mysteriously disappearing into wheat fields only to never return bear absolutely no relation to our work.