Amber Waves Swimming, Scuba, Travel & First Aid Training Facility
Amber Waves will soon offer swimming classes and scuba diving school in a brand new, state-of-the-art 10,500 square foot facility at 12959 E. 21st North Wichita, KS 67230. The new facility will feature an events patio and a 25-yard, 18-foot heated pool that will allow us to do specialized training and take our scuba diving school to great depths (literally)!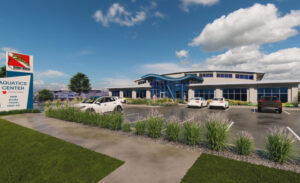 At Amber Waves Swim and Scuba Diving Center, our swimmers are kept warm, in and out of the water for the best learning experience. We use custom-built HVAC systems that use the warmth from our heated pool water to heat the air in the winter, and warmth from the air to heat the pool in the summer. Our natatorium operates a separate HVAC system with state-of-the-art air filtration and ventilation.
We sanitize our pool using sand filters, a cutting-edge chlorinating generation system, and UV light. UV filters help reduce chloramines or skin irritants and our pool water circulates completely through our filtration system every 4 hours. We also automatically control and manually check chemical levels every 4 hours to kill microorganisms & ensure a safe swimming environment.
Amber Waves swim & scuba diving facility will offer:
We're hiring! If you're interested in taking your career to new horizons, please visit our Careers page for details.