About Amber Waves Diving
Company History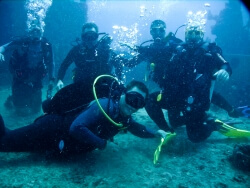 Amber Waves Diving Co. started in 2008, with a vision to create a dive club atmosphere so divers of all levels could come find friendly smiles, dive conversation, great training, scuba diving gear, and scuba diving equipment rental & repair at reasonable prices.
The original owners knew that putting a shop in Augusta, KS (avoiding the middle of metro Wichita) would create a difficult marketing task. Therefore, our core philosophy was to define ourselves as a "Destination Retailer." Our business philosophy soon paid off and we had to say bye to our friends in Augusta and hello to our friends in Wichita.
We've grown to now have a state-of-the-art scuba diving school and swim training facility in east Wichita. Throughout our years, Amber Waves has stuck with our core philosophy & continues to strive to make each customer feel they are part of the Amber Waves family. In 2014, our hard work came to fruition when we became the largest PADI Training Center in Wichita.
Amber Waves has grown from our meager start with only three instructors.  We now boast a roster of 27 team members that include instructors, dive masters, and retail support staff. Our team is considered one of the "BEST" service centers in the Kansas area and we've won several prestigious awards from PADI, our certification agency.
We're here to educate! If you ever have a question, do not hesitate to call "Dr. Scuba" at 316-775-6688 or contact us online. "Dr. Scuba" is always ready to write a prescription that includes adventure and happy memories.
Prepare for every opportunity and create an environment where both internal customers and external customers smile and laugh often.
Our Mission
Amber Waves Diving Co. provides recreational scuba and swimming instruction, professional instruction services as well as swimming and scuba diving related products to academic institutions, small & large businesses, and the general public.
When you take a course with us, you become a member of our diving family – one that is committed to ensuring you have a safe and meaningful diving career. We will constantly strive to provide the passion and inspiration for growing dive customers, employees and associated instructors to see life as an adventure that requires love and care for one another.